Reskinned
At Penelope Chilvers our boots are built for a lifetime and by partnering with Reskinned means we can offer our products a continued lifespan with many more adventures to be had!

What is Reskinned?

We are partnering with Reskinned who will rehome, repurpose, or recycle your preloved Penelope Chilvers with a 0% to landfill repurpose.
Reskinned powers takeback and recommence for the most sustainably minded clothing brands, offering a seamless service for our customers.

Every customer that sends in a pre-loved Penelope Chilvers item, will be rewarded with a voucher to spend in-store or online for the opportunity to purchase against a product from our current collection.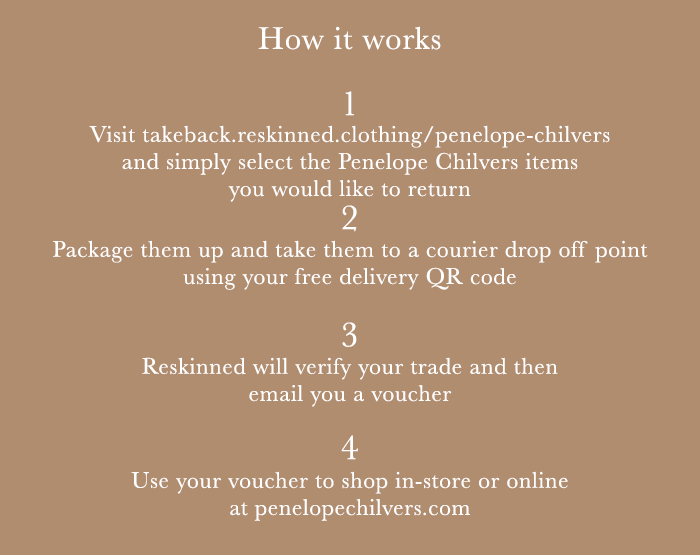 Footwear

Long Boots - Voucher Value: £40
Ankle Boots - Voucher Value: £30
Trainers - Voucher Value: £20
Slippers - Voucher Value: £20
Espadrilles - Vocuher Value: £20
Shoes - Voucher Value: £20
Accessories

Bags - Voucher Value: £20
Belts - Voucher Value: £10
Bag Straps - Voucher Value:£10




Terms & Conditions
Only genuine Penelope Chilvers items can be traded in for a voucher to spend at Penelope Chilvers, non-complying items will be recycled by Reskinned.
£40 maximum redemption value per takeback.
Only one voucher can be redeemed per purchase and the purchase must have a minimum spend of £170.
Takeback voucher codes are valid for 6 months from the date of issue.
Takeback voucher codes are unique and only have a one-time use. Please do not share your code.
Takeback voucher codes can only be used on full-price items, and can not be used in conjunction with any other offer code. There is no cash alternative.
The takeback voucher code must be entered at Penelope Chilvers checkout to redeem, or if in-store, must be shown to store staff to redeem before purchasing and must be entered at the time of purchase. The vouchers can not be honoured after the time of purchase.
Only UK customers are eligible to participate in the Penelope Chilvers takeback programme